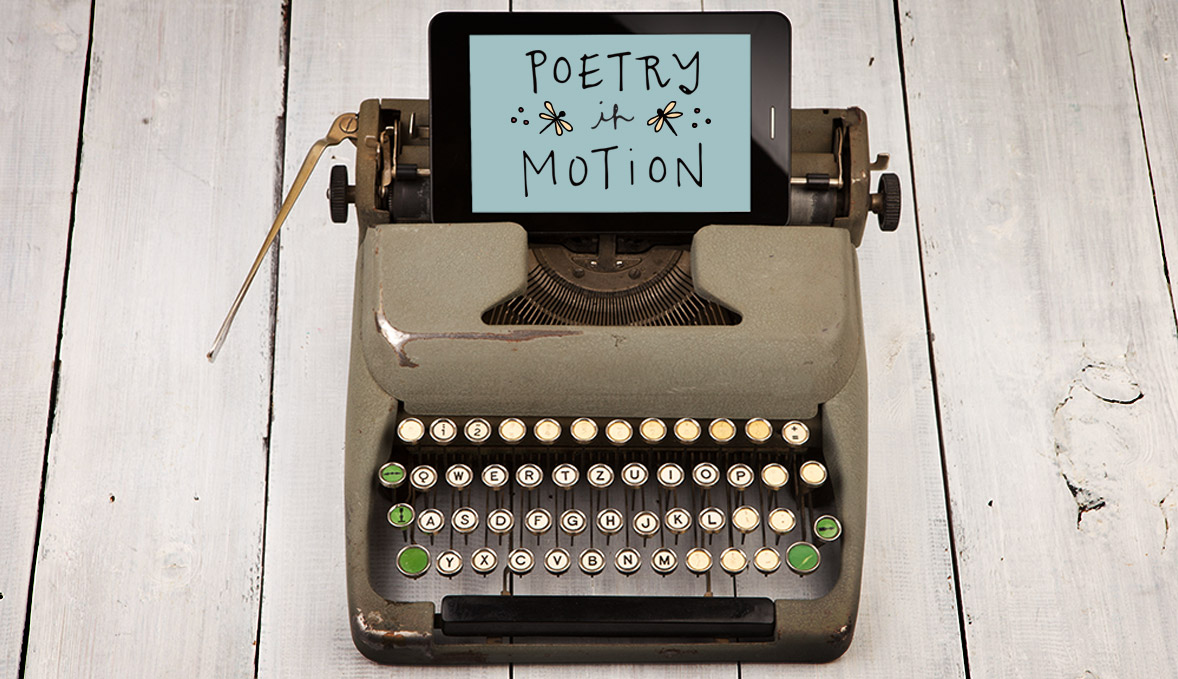 Project Description
Poetry in Motion is a series of animated poetry excerpted from Sage Words and Sage Spirit, illustrated collections of poems by Jet Widick and Kimberly Taylor-Pestell.
Poet and Author Jet Widick has always seen the world in rhythms and rhymes. What began as simple messages of appreciation, turned into poetic toasts at dinner parties and cheeky, end-of-year spoken word raps dedicated to elementary school teachers. As Jet reflected on this affection she felt for her life's accomplishments and all the moving parts and people that represent a piece of these precious efforts, she was struck by how gratitude transcends self-focus and allows us to move beyond preoccupation with ourselves and our problems—which in turn leads to more joy in the present moment and becomes an excellent energy source for inspiration and achieving future goals.
Language and the words we choose to express ourselves shape our environment as strongly as smell, taste, touch and sight. So does the tone of our individual voices—both verbal and non. Jet asked me to choose the visual artist and voice talent to bring the following six poems to life, and Kimberly Taylor-Pestell's handcrafted illustrations and the emotive nuance of Elsie Swann's voice bring a depth and complexity of expression to Jet's poetry that we wouldn't experience from words on paper alone.
These animated poems are fueled by reflection on our own unique strengths and accomplishments. They open a portal to the experience of gratitude, which spins off a whole cycle of positivity for ourselves and others. Our contributions to this world last forever and cannot be taken away from us, not even by death. They are worth celebrating daily—for our own well-being, as well as for those around us.
Written by Jet Widick and performed by Elsie Swann
Production: North Coast Post
Creative Direction: Kristen Alden
Hand lettering & Illustration: Kimberly Taylor-Pestell
Music & Sound Design: BJ Alden
This poem was inspired by the so-called genetic imperfection that has a youthful appeal and makes a smile so darn cute. Pair some dimples with a sunset by the ocean, listening to the waves and watching the falling stars, and it's magic.
---
When you tuck your phone out of sight for a week with no WiFi available and no cell towers around, you become overwhelmed—by a feeling of peace. You can hear the birds singing, rain on the roof, and your focus is spot-on as you engage more meaningfully in your surroundings with all your heart.
---
There are unexpected events that aren't a part of our life's master plan—like an accident or illness—that bring our attention to our own fragility. It takes great effort to find the courage to face life's challenges with a firm belief and a proactive perspective.
---
Aging naturally or plastic surgery? This poem was inspired by a love of natural beauty and people who age with ease and grace. Silver hair, the speckling of wrinkles and lines of distinction and character, are all an expression of life.
---
Your home is like a diary. Memories and history fill the walls and surround you like a big hug. It's a sanctuary of sorts; a vantage point where you can can find balance, refuge and the truest warmth there is.
---
There is amazing power in our hands. Hands that touch, comfort, communicate, create and heal. These beautiful gifts of ours are to be appreciated for their incredible dexterity, unique beauty, and crucial role they play in our everyday lives.
Related Projects